Navarre Report Manager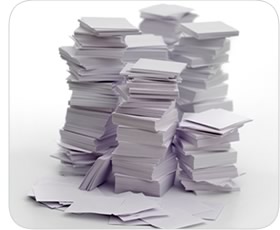 Navarre Report Manager is an affordable and easy to use product that will change the way in which you think about Crystal Reports. This easy and yet powerful software gives you the ability to schedule your Crystal Report to run at any time of day and export it to any number of destinations automatically with no user interaction needed.
You can spend tens and even hundreds of hours developing your Crystal Report to only spend hours every day, week and/or month running these reports over and over again. Navarre takes all the repetitiveness out by running these reports for you while you're doing what is important to you, managing your business.
Don't waste your time running reports all day! Let Navarre Report Manger do it for you. In just a few minutes you can have a Crystal Report scheduled to be automatically exported to print, email, file transfer or FTP and leave knowing that your report will get where it needs to be, when it needs to be there.
Navarre uses the power of Crystal Reports 2008 for process reports which is nearly seamlessly backwards compatible to version 9. Crystal Reports Version 8.5 and below can also be processed but changes to report may need to be made. Version 6 is the latest update to our report processing software used over the world built using the latest programming technology from Microsoft and the Dot Net Framework.  Navarre was designed to be run on Windows 2008R2 and above, or 2003 and below, server or desktop, physical or virtual.
Process Group:
At the core of Navarre is a process group.  This is the main container for grouping and processing reports. Every process group contains all of the individual jobs and all the schedules in which the attached jobs are run on. No longer do you need to have duplicate jobs just because you need to reports to be run on different schedules.  You now can schedule a process group to run every weekday, on the first day of the month and the last day of the month just by adding additional schedules.
Job:
A job is the definition of the export type and destination, storing how and where a report's exports will be sent. You can select to email, file transfer, FTP and print. By selecting different jobs types, like Mass Distribution, Bulk Distribution and Alternate, you determine how jobs are processed. You can find out more about these optional modules here (link).
Report Item:
With every job you can attach the required number of report items (more than one item requires the optional Bulk Distribution module) all of which will be processed and sent to the parent jobs destination.  Each report item stores which report to run and what parameters to apply to that report. It also contains the exports that will be generated.
Export:
New in Version 6, you can now add any number of exports for a given report. Now there is no need to process a report twice just to get an export in PDF and another one in CVS.  All of which will be will be sent to the parent jobs destination.
The below diagram shows how schedules, jobs, report items and exports are all related within a process group.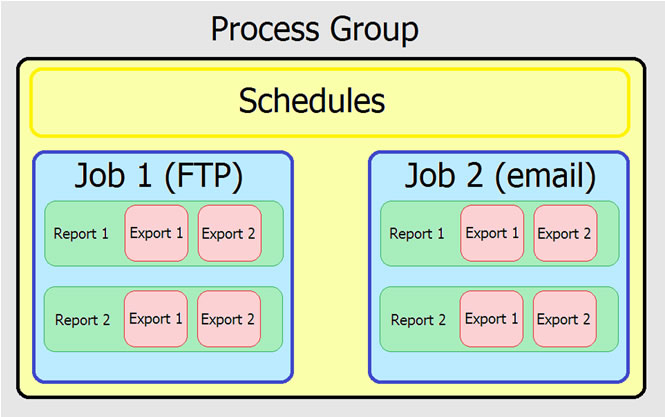 Schedules:
Schedules are added to the process group and when the run time is reached all of the attached jobs are processed.  There are two main types of schedules, one time and recurring. Recurring schedules can be set occur daily, weekly and monthly. All of which you can specify a single time of day or a start, stop and interval to have the jobs repeat through out the day.  All schedules have a start date and if needed an end date. With the built in ability to add multiple schedules you can accommodate almost any situation.
Destinations:
Every Job sets the destination for all the reports. You can choose to send the exports to email, disk, FTP and print.  You can also send an email notice when using disk and FTP to notify an end user that an export was transferred. You are able to select additional files or folders to attach with all destinations with the exception of printing.
Export Formats:
Navarre supports reports being exported to:
Adobe Reader (PDF)
MS Excel (XLS)
MS Excel data only (XLS)
MS Word (DOC)
Comma / Tab Separated Values (CSV)
HTML 3.2 / 4.0
Embedded HTML (email only)
Text File (TXT)
Crystal Reports (RPT)